Post-harvest Management & Value Addition
H/A: 2435-01-800-94Rs. 1270.00 lakh
Post-harvest management and value addition/agro processing have a very crucial role in improving the Kerala economy and the income of the farmer from agriculture sector.
The SFAC will provide support to small and medium enterprises, for which an amount of Rs. 700.00 lakh is set apart. The SFAC will provide support to small and medium agro processing units and to individual or SHG based micro level value addition units. The maximum support for an individual unit will be limited to Rs. 50.00 lakh after approving the credit by the financial institution.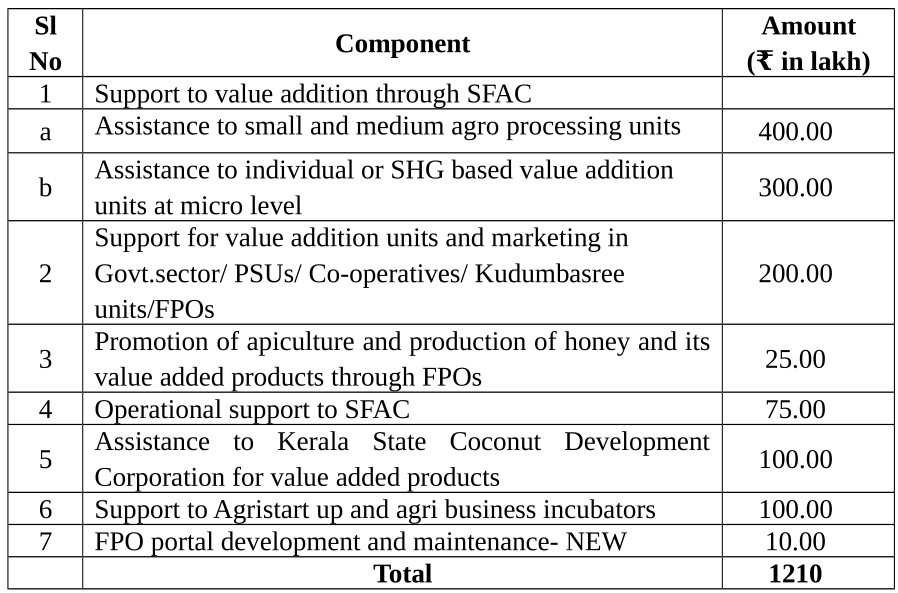 Separate norms will be developed for giving assistance to SHG based/ individual based micro level units. Employment generation and livelihood security will be given emphasis in micro level enterprises. Assistance will be provided for establishing copra dryer units for societies under Kerafed implementing green coconut procurement programme. This amount will also be utilized for providing technology support to entrepreneurs through SFAC.

An amount of Rs. 200.00 lakh will be provided for supporting value addition units and marketing under Govt. sector/ PSUs/Co-operatives/ Kudumbasree units in a project based manner. Out of this an amount of Rs. 50.00 lakh is earmarked for promotion of value addition in rice and marketing to Mayyil Rice Producer Company through KVK, Kannur.
An amount of Rs. 50.00 lakh is set apart for operational expenses of SFAC.
Apiculture and production of honey and its value added products have immense potential in Kerala State. The support for apiculture and honey production will be continued for the benefit of honey growers and promotion of value added honey products through State Horticulture Mission. An amount of Rs. 25.00 lakh is set apart for this component.
Read More...
An amount of Rs. 100.00 lakh is earmarked as support to Kerala State Coconut Development Corporation for value addition promotion.
For encouraging Agri startups and technology-based innovations in agriculture sector an amount of Rs. 200.00 lakh is earmarked. The envisioned Kerala Agritech Innovation Zone (KAIZ), will be the key partner for enhancement and development of technology capabilities in the field of Agriculture value chain especially focusing on harvesting, storage, value addition, marketing, logistics by adopting emerging technologies to enhance the income of farmer. The innovation zone will bring together the experts from various technology domains from a wide range of startups, research and corporates. The programme plan for KAIZ will be developed, owned andexecuted by Kerala Startup Mission. This will be carried out by the Kerala Startup Mission through the Department of Agriculture. Scaling up and commercialization of innovative products for agriculture sector and development of innovative technology products for agri value chain will be the major thrust areas. The component wise breakup of the scheme is shown above.