Post-harvest Management & Value Addition
H/A: 2435-01-800-94Rs. 2020.00 lakh
           The objective of the scheme is to promote medium, small and micro agro processing/value addition units ensuring income increase to farmers, revamping Farmer Producer Organisations and generating employment opportunities. Promotion of innovative technologies in value addition and entrepreneurship in agriculture will also be supported. Small Farmers Agri Business Consortium (SFAC) will implement these activities performing the role of a nodal agency. The component wise breakup of the scheme is shown below.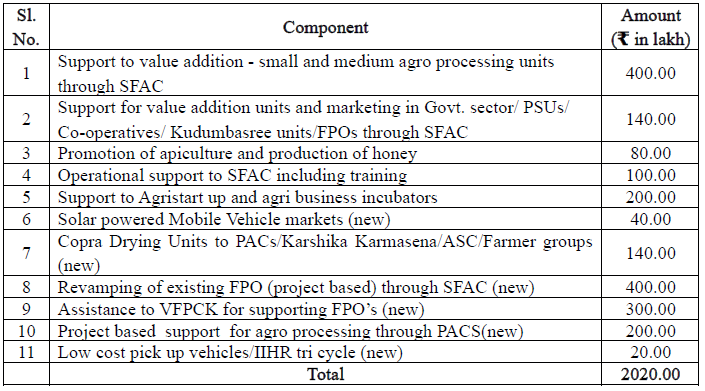 Project based support for small and medium agro processing/value addition units, individual/SHG based micro level value addition units will be provided through SFAC. An amount of ₹ 400.00 lakh is set apart for providing assistance to small and medium agro processing units and ₹ 140.00 lakh for supporting value addition units in Government sector/PSUs /Cooperatives/FPOs through SFAC. Wherever necessary, projects may be implemented in coordination with Krishi Bhavans. All the proposals / projects will be vetted by SFAC and approved for implementation as per the existing operational guidelines of MSME scheme. The vetting, monitoring and evaluation of the projects will be done by a team of experts constituted at SFAC from within the officials trained for the purpose in reputed institutions like IRMA, CFTRI, IIM etc.
The support for apiculture and honey production will be continued for the benefit of honey growers and promotion of value added honey products through State Horticulture Mission with the involvement of FPOs in integration with MIDH and Honey Mission. An amount of ₹ 80.00 lakh is set apart for this component.
An amount of ₹ 100.00 lakh is set apart as operational support to SFAC includingtraining.
For technology-based innovations in agriculture sector, agristartups and agribusiness incubators will be promoted for which an amount of ₹ 200.00 lakh is earmarked. This component will be implemented through the Kerala Start Up Mission with well-defined guidelines.
Read More...
        Solar powered mobile vehicle markets @ 50 % assistance will be supported for marketing of fresh and processed products. Assistance will be provided to Horticorp /VFPCK for procuring one solar powered mobile vehicle market for which an amount of ₹ 40.00 lakh is allocated.
Assistance @ 20% will be provided for establishing copra dryer units and other multipurpose drying units to PACS/ Karshikakarma senas/ agro service centres/farmer groups for which an amount of ₹ 140.00 lakh is allocated. Support will be provided as back ended subsidy only. Source of funds for providing assistance to drying units available under Industries department will also be integrated into this.
Considering the importance of promoting Farmer Producer Organizations in the field of agricultural production, processing and marketing, an amount of ₹ 400.00 lakh is allocated for revamping the existing Farmer Producer Organisation through SFAC. The proposals for revamping will be submitted to SFAC and assistance will be provided in project mode after proper vetting. The amount will be provided as one time assistance. The selection of FPOS will be based on approved criteria and the Kerala FPO policy 2020.
An amount of ₹ 300.00 lakh is set apart as assistance to VFPCK for supporting FPOs initiated under VFPCK.
An amount of ₹ 200.00 lakh is earmarked for project based support for establishment of agro processing industry under PACS.
In order to facilitate transport of perishable fruits and vegetables, assistance will be provided for purchase of IIHR tricycle/low cost pickup vehicles at 50% subsidy to Karshakamitras/Agro service centres/Karshika karma senas @ one vehicle per district. Suitable tie ups will be made with KAMCO/KAICO through an MOU. These will be demonstrative in nature in order to promote the concept among private entrepreneurs. An amount of ₹ 20.00 lakh is set apart for the purpose.