Strengthening Agriculture Marketing
An amount of Rs. 50.40 crore is set apart for implementing schemes under this.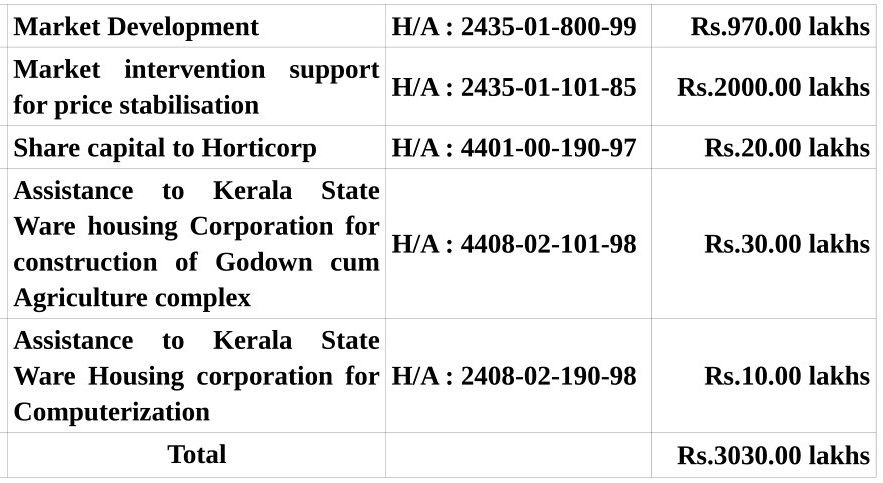 Appropriate and effective linkages between the producers and sellers continue to be weak in the state. Market infrastructure, market intelligence and institutional support are to be improved.
The total amount of ₹3030.00 lakh earmarked during 2021-22 is for marketing activities, market intervention support, assistance to Kerala State Warehousing Corporation and share capital contribution to Horticorp. This also includes ₹500.00 lakh set apart for marketing development activities of VFPCK. Market development activities by VFPCK will be in convergence with the similar activities carried out by the Department of Agriculture. Technology dissemination, trainings and campaigns shall be organised jointly with the Department of Agriculture. Mechanism for PGS Certification and traceability of products should be implemented jointly by the Department of Agriculture and VFPCK.
Existing Grama panchayat level weekly markets will be supported and new weekly markets will be established with the support of LSGIs for which an amount of ₹50.00 lakh is set apart. Support will be provided only to selected existing markets having high turn over( ₹2.00 lakh/market) within A grade markets. An amount of ₹150.00 lakh is earmarked for operational expenses of urban and rural wholesale markets and district procurement centres and ₹40.00 lakh for Agmarknet and market intelligence. The establishment and functioning of these markets will be in accordance with the e-NAM guidelines so as to facilitate unified market for agricultural commodities.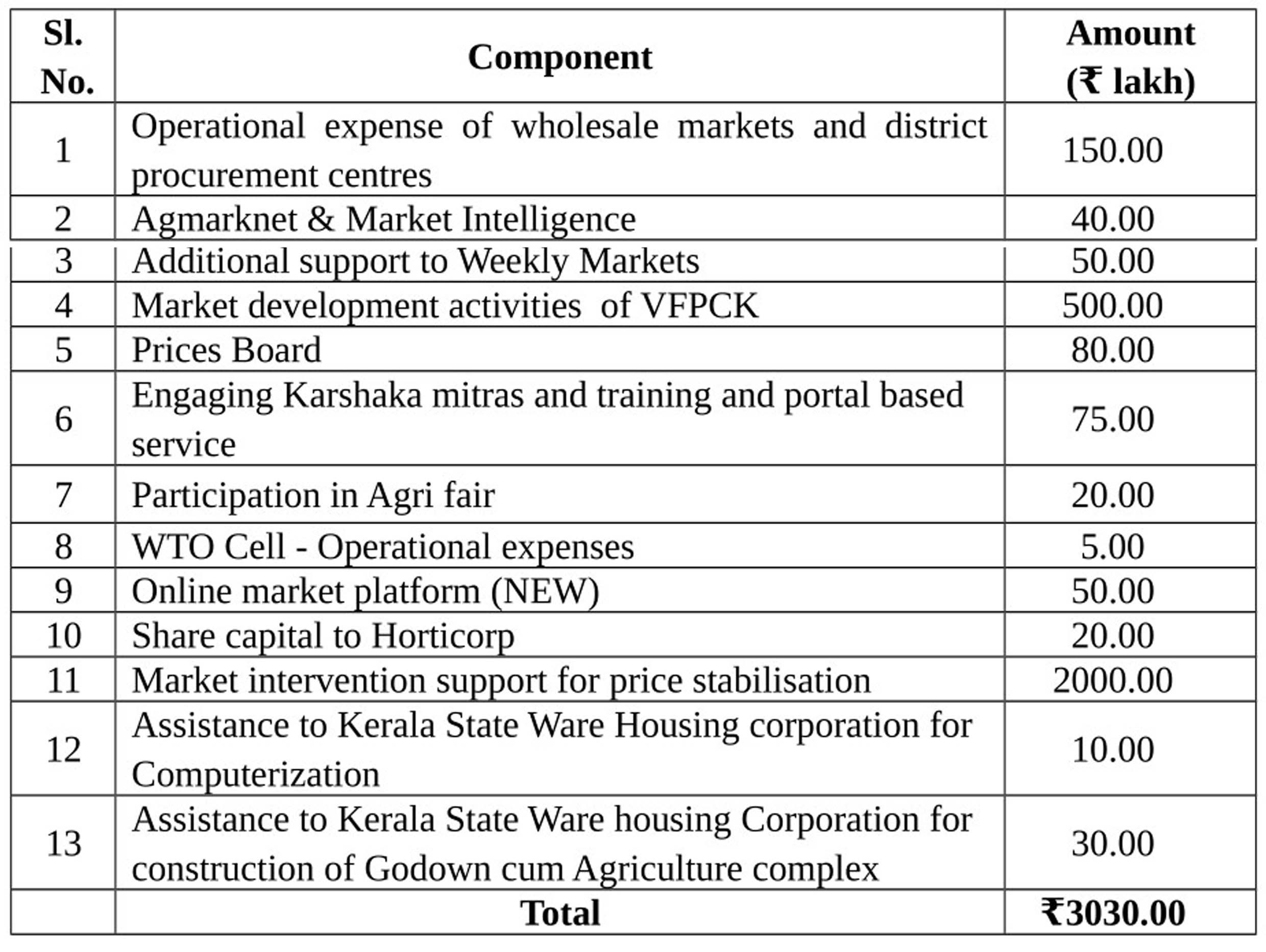 Karshaka mitras will be engaged for effective coordination of marketing of surplus farm produce including the use of social media for marketing. Graded incentive structure to karshakamitras based on quantity procured by each Karshaka mitra will be followed. An amount of ₹75.00 lakh is earmarked for engaging Karshaka mitras. Participation in interstate and national level agri fairs helps to gain more exposure to farmers and entrepreneurs for which ₹20.00 lakh is set apart. An amount of ₹5.00 lakh is set apart for operational expenses of WTO cell. An amount of ₹80.00 lakh is set apart for the functioning of Agricultural Prices Board and conducting market study by Board. An amount of ₹50.00 lakh is earmarked for developing online market platform.
The objective of the component on market intervention support for price stabilisation is to launch procurement operations through designated agencies on selected agricultural commodities during harvesting season with a view to guarantee remunerative prices to the growers. The outlay is meant for providing incentives to the procuring agencies based on the terms and conditions prescribed by Government as part of each operation and expenses connected with vegetable procurement during festival season and also as incentive to societies for procurement of green coconut and further processing. Out of the amount of ₹3030.00 lakh, an amount of ₹2000.00 lakh is earmarked for market intervention support. An amount of ₹20.00 lakh is set apart as share capital to Horti Corp. Share capital will reflect in the balance sheet of Horticorp.
The e-vipani portal functioning in the call centre at Small Farmers Agribusiness Consortium (SFAC) will continue with the activities of tapping the market opportunities for ensuring maximum price for the farmers produce and linking farmer collectives with states following GAP through software development & networking will be encouraged.
An amount of  ₹30.00 lakh is set apart for Kerala State Ware Housing Corporation for the construction of Godown cum Agriculture Complex and an amount of ₹10.00 lakh for computerization of Kerala State Ware Housing Corporation for connecting the sub offices through a web based software. The component wise breakup of the scheme is shown below.