Support to Farm Mechanization
H/A: 2401-00-113-83 Rs. 1181.00 lakh H/A: 4401-00-113-98 Rs.800.00 lakhs
           Farm mechanization is the key to scientific crop and produce management. The objective of the scheme is to overcome the shortage of labour and to develop single point delivery system through strengthening of Agro Service Centres, Karshika Karma Senas and Custom Hiring Centres which are part of mechanization activities. It is also envisaged to bring convergence of these three institutions as sustainable Self Help Groups in the farm sector viz. "Krishisree centres", to facilitate a single window service delivery to farmers under the coordination of Kerala State Agricultural Mechanization Mission (KSAMM). This will be done through a project approach.
An amount of ₹ 1981.00 lakh is allocated under the scheme during 2023-24. The component wise breakup of the outlay is shown below.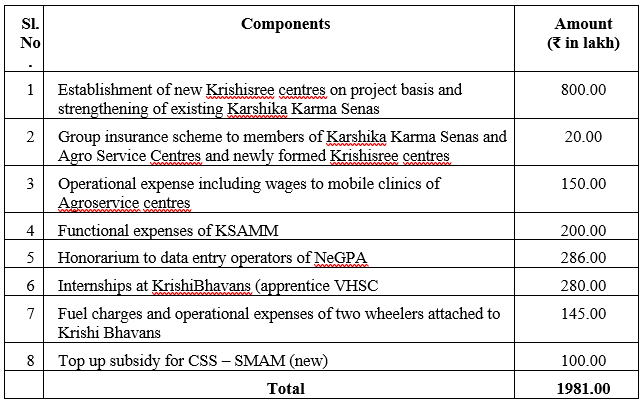 Read more..
             New Krishisree centres will be established during 2023-24 including Corporation and Municipality areas. The Karshika Karma Senas will be strengthened to enhance their performance. Detailed Project Reports of individual centers will be placed before the working group. An amount of ₹ 800.00 lakh is set apart for establishment of new krishisree centres and strengthening of existing karshika karma senas.
A business plan will be developed for these units for its efficient and profitable functioning and self-sustainability in the coming years. A single unit shall have a business plan earning an income of ₹ 5.00 lakh/unit. A performance analysis of the units will be undertaken before providing assistance.
In order to provide accident insurance to registered members of Karshika Karma Sena and Agro Service Centres and the newly proposed Krishisree units, a group insurance programme in association with insurance companies with beneficiary contribution will be constituted. An amount of ₹ 20.00 lakh is earmarked for remitting insurance premium.
The activities of KSAMM will focus on enabling an efficient mechanization environment for farm operations to the farmers. An amount of ₹ 200.00 lakh is set apart as functional expenses of KSAMM. Inventory of agro machinery under Agro Service Centre, Karshika Karma Sena, Custom Hiring Centre covering those distributed under various schemes available in panchayats will be completed and registry of agro machinery at Krishibhavan level will be created and updated during 2023-24. Inventory of repairable machines will also be completed and made functional. The database thus generated will be utilized to monitor the real time performance of the agro machineries. The mission activities will also include integration and execution of agricultural activities through Krishisree unit and introduction of business plan concept in Krishisree units to function in a self- sustaining mode under proper monitoring at district and state level. Capacity building training on repair and service of agro machinery for the service providers of Agro Service Centres and Karshika Karma Sena will also be done by the Mission. The mission activities will be in integration with the similar activities of the engineering wing of the Department and under the supervision of Director of Agriculture.
With the twin objective of providing opportunity for educated youth as well as availing service at the grass root level for better execution of government programmes, internship programme will be provided in Krishi bhavans for the year 2023-24. Final year VHSE students and VHSE certificate holders in agriculture/organic farming will be engaged for a period of six months with an incentive of ₹ 2500.00 per month. An amount of ₹ 280.00 lakh is set apart for this.
An amount of ₹ 100.00 lakh is earmarked as top up subsidy to CSS on SMAM for purchase of machineries through groups including FPOs. The department will ensure that 15 percent of beneficiaries of the scheme are women. In order to strengthen the mechanization drive, a Review Committee set up under the Chairmanship of Agricultural Production Commissioner represented by KAU, Kerala State Planning Board, State Agriculture Engineer, Director, KSAMM besides Director of Agriculture will monitor the operation under the scheme.