Coconut Development
H/A: 2401-00-103-87Rs. 7547.00 lakh
The strategy proposed for coconut development is integrated development of holdings aimed at maximising income from unit area through better agro management practices and promotion of multi species cropping and farming systems. Further, there is an emerging need to enhance the production and productivity through replanting with new and high yielding palms and follow better management practices. A coconut council has been formed in the state with specific objectives to achieve this target.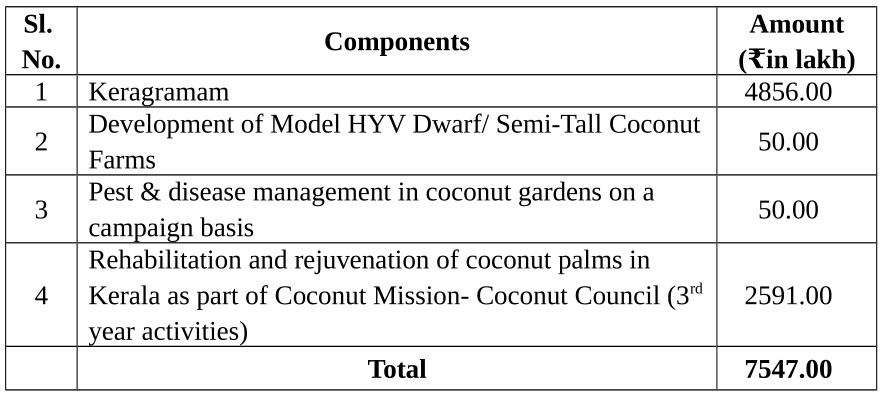 The coconut development programme will be implemented in contiguous areas called Keragramam covering a minimum area of 250 ha, with the objective of increasing production and productivity through the activities such as replanting, integrated pests and disease management, integrated nutrient management, promotion of inter cultivation, improving irrigation facilities, promotion of value addition, ensuring availability of quality planting materials and employment generation. Application of lime, micro and secondary nutrients will be ensured for effective nutrient uptake. During 2021-22, an amount of 4856.00 lakh is provided for  undertaking activities like cultural operations including Integrated Nutrient Management & Integrated Pest Management (INM & IPM), application of organic manure, distribution of climbing device, establishment of coconut nurseries and irrigation units. New Keragramams will be selected. Assistance per Keragramam will be continued for three years for sustaining activities initiated during 1st year. The rate of assistance will be reduced to selected components during 2nd and 3rd year. The scheme will be implemented in selected panchayats. The institutional development at Panchayat level for convergence of various scheme implemented by Coconut Development Board (CDB), Local Self Government Institutions (LSGI), and the Department of Agriculture will be supported. Model farm plans will be prepared and additional assistance will be ensured from the plan of LSGIs.
It is proposed to promote scientific cultivation of high yielding dwarf and semitall varieties suited for tender coconut, culinary coconut and copra, replacing unproductive, senile and diseased palms in contiguous areas. The provision under the component will be utilized for establishing model farms of high yielding dwarf as well as hybrid coconut varieties. A model farm should have a minimum size of 0.20 ha. An amount of 50.00 lakh is set apart for this component.
Read more...
Integrated pest and disease management in coconut palms on project mode to control pest and diseases including rhinoceros beetle, red palm weevil, bud rot etc. will be carried out on a campaign basis for which an amount of 50.00 lakh is  earmarked.
In order to continue with the activities of Coconut Mission, for Rehabilitation and rejuvenation of coconut palms in Kerala an amount of 2591.00 lakh is provided.  The main objectives of the Mission are to revive the coconut wealth of Kerala through a campaign of replanting and maintenance; to enhance productivity of coconut; and to ensure forward linkages with agro-industry. It is targeted to bring additional 1.44 lakh ha. under coconut cultivation and 3 lakh ha. under replanting. There is a need for replanting at least 75 coconut seedlings per ward every year in the state with the support of KAU, CDB, CPCRI, Farmer Producer Organisations, PACS and local governments.
The main components of the rejuvenation programme include:
Cut and removal of old, senile, unproductive and disease advanced palms.
Replanting with high yielding semi tall and dwarf varieties
Rejuvenation of existing gardens by adopting integrated management practices.
Assistance for replanting
Under planting in old plantations with good quality planting materials.
Development of existing coconut farms for effective supply of seeds nuts
The activities envisaged by the coconut mission including seed nut procurement, nursery charges and production of coconut seedlings will be carried out.
The Kerasamrudhi project for the production and distribution of quality coconut seedlings will be converged with the production of coconut seedlings under the Coconut Mission. This will be implemented with the support of FPOs and experienced PACS, KAU, CPCRI and CDB.
The second year grant for Rehabilitation and Rejuvenation of Coconut palms in the Aralam Farm and converting it into a coconut seed farm is also included under Coconut Mission.