Vegetable Development
H/A: 2401-00-119-85 Rs. 6720.00 lakh H/A: 2401-00-119-81Rs. 725.00 lakh

During 2021-22, the Vegetable Development Programme will be implemented in the state as part of Subhiksha Keralam Programme, with the objective to promote vegetable production in the state in a safe-to-eat manner and to attain self-sufficiency in the sector. The scheme will be implemented in a Mission Mode involving all the stake holders in this sector such as Agriculture Development & Farmers Welfare Department, PACS, FPOs, Kerala Agricultural University, LSGDs, VFPCK, Horticorp and SHM. Co-ordination of all PSUs, ATMA, Organic Farming (GAP, PGS System), Marketing, infrastructure programmes shall be ensured for the success of the programme. Homestead cultivation will be promoted in all the households in the
State for producing Safe to Eat vegetables throughout the state.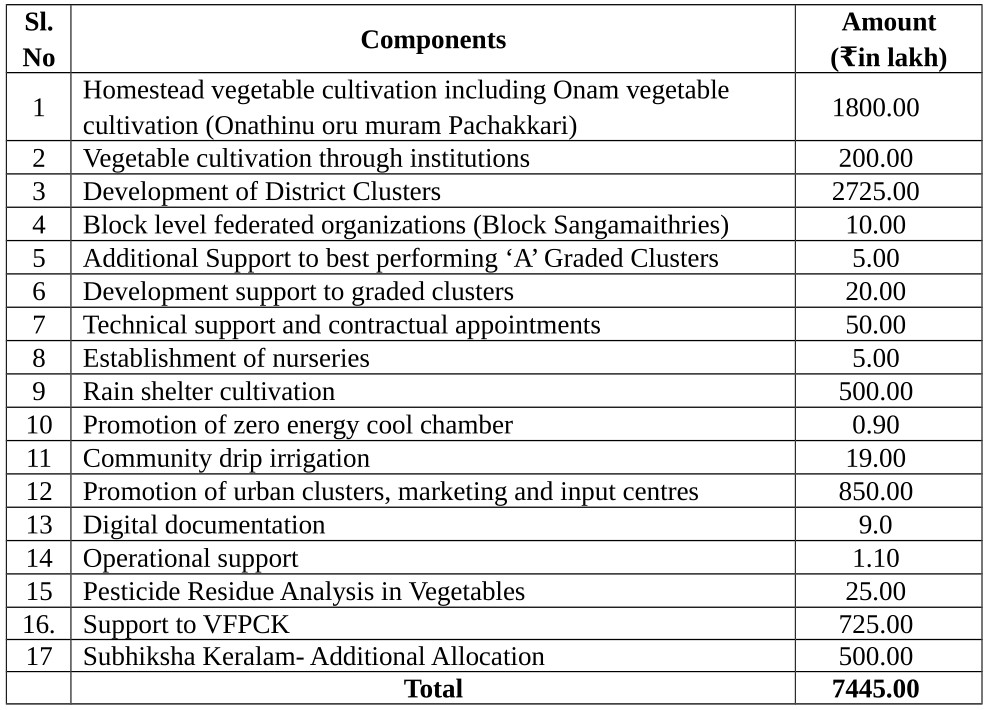 The Vegetable Mission activities under the scheme will be streamlined in the following lines as to improve efficiency at various levels.
• Production, procurement and marketing. Vegetable produced under commercial cultivation and homesteads of Kerala will be collected from the surplus areas and supplied to deficit areas     thereby fetching premium price to the farmers as well as reasonable price for good quality produce.
• Promoting homestead cultivation for producing Safe to Eat vegetables throughout the state which includes Onathinu Oru Muram Pachakkari and cultivation of vegetables giving thrust to     cool season vegetables.
• Integrating various components of Vegetable Development Programme (VDP) of the Department and VFPCK such as Vegetable cultivation through institutions, Development of district        clusters, Establishment of nurseries, Promotion of Rainshelters, Promotion of zero energy cool chamber, Community Drip Irrigation and Promotion of Urban Clusters for promoting              commercial cultivation of vegetables.
 Co-ordination of all PSU's, and ATMA, Organic Farming (GAP, PGS System) and Marketing programmes in activities related to vegetable development. Online marketing shall be   promoted in coordination with Cooperative system and Farmer Producer Companies. The model of e-NAM portal shall be introduced.
Massive publicity and campaign at Panchayat, block and district level with the participation of LSGDs, PACS and FPOs.
The vegetable production scheme will be implemented in close coordination with Haritha Keralam Mission and clearly defined physical targets at AEU, Panchayat level and other deliverables will be included in the project. Department of Agriculture will organize campaigns for Vegetable Development Programmes at block level and at panchayat level with the support of PACS, FPOs and other farmer groups and panchayats.
Read more...
There will be convergence of vegetable development activities carried out by LSGD, VFPCK, SHM, KAU and Horticorp under the mission. The Director of Agriculture shall draft terms of reference with the agencies specifying the roles and responsibilities of each agency. The targets to be achieved with respect to each activity right from production to marketing, processing, risk management, price stabilization shall be specified and monitored. There will not be duplication of beneficiaries among the various agencies. A database of the beneficiaries of various agencies receiving benefits for vegetable development will be prepared and maintained. The details of beneficiaries with respect to nature of cultivation as to
homestead/commercial/urban/rural/terrace/protected/open, seasons cultivated, type of vegetables cultivated, nature of ownership as to own land/leased land, private/ government institutions, harvested yield, marketed yield, marketable surplus will be documented which will be periodically updated and maintained. The marketing mechanism adopted by beneficiary/cluster will also be recorded.
Duplication of activities by these agencies in an area will be avoided. The activities will be carried out integrating the funds allocated to the agencies for vegetable development. Insurance, credit facilities and risk fund to vegetable growers shall be coordinated by a single agency. The SHG's, SKS under VFPCK, clusters, BLFO's under VDP, will function in an integrated manner under the coordination of VFPCK. The period of assistance to the same beneficiary will be fixed unless there is crop loss due to unforeseen catastrophe like flood/drought and the like. A mechanism to maintain reserve fund to sustain the cultivation will be worked out. Department of Agriculture will be the Nodal agency for Vegetable Mission co-ordinating the vegetable development activities in respective areas.
The components include promotion of homestead vegetable cultivation and cultivation through institutions, development of clusters, support to block level federated organizations and A graded clusters, establishment of nurseries, rain shelter cultivation, promotion of urban clusters, development support to graded clusters and community drip irrigation.
During 2021-22, an amount of 7445.00 lakh is set apart for vegetable  development. Out of this an amount of 500.00 lakh is earmarked for  implementation of cold chain supported vegetable development programmes under Subhiksha Keralam as per the existing guidelines with the convergence of all stake holder departments and agencies.
An amount of 725.00 lakh will be for the promotion of vegetable cultivation  through VFPCK excluding crop insurance, natural calamity and infrastructural components. VFPCK in addition to carrying out the general functions will carry out specific roles on project basis for which funds are allocated. The activities include support to vegetable cultivation including export quality vegetable cultivation through farmer Interest Groups, Farmer Producer Organisations and Clusters under GAP/PGS and other vegetable production activities including cool season vegetables. Out of this an amount of 15.00 lakh is set apart to soil fertility improvement through ₹ VFPCK. Duplication of same activities in various schemes implemented by VFPCK will be avoided. A comprehensive proposal for vegetable and fruit development covering production, processing and marketing within the fund allocated under various schemes to VFPCK shall be prepared and submitted for approval.
Out of 1800.00 lakh earmarked for homestead cultivation 1100.00 lakh is for "Onathinu oru muram pachakkari" programme towards supply of seed kits and ₹700.00 lakh for supply of seedlings to homesteads and farmers. The seedling will be produced and supplied by the panchayat level nurseries/block level nurseries under Vegetable development programme/Department farms/VFPCK/Agro Service Centres and approved agencies and certified by district level VDP implementing Committee based on Seed Act to ensure quality of seeds and seedlings. Cool season vegetables will be given thrust.
Out of 200.00 lakh set apart for vegetable cultivation through institutions, an  amount of 100.00 lakh is for vegetable cultivation in schools and other educational  institutions. For project based cultivation including innovative technologies in  institutions like PACS and government office premises an amount of 100.00 lakh is  set apart.
The cluster based development is the key component in the vegetable development initiative of the state. An amount of 2725.00 lakh is set apart for  cluster development in districts out of which 1350.00 lakh is as assistance to  existing clusters and 1100.00 lakh is for assistance to staggered clusters. An amount of 100.00 lakh is for pumpsets and 30.00 lakh for plant protection equipments.  Amount of 100.00 lakh is earmarked as special assistance for cool season vegetable  cultivation in Idukki district. Out of the amount earmarked for cluster development in districts 45.00 lakh will be utilized for production and distribution of seeds of  traditional varieties and for promotion of nutritional garden for the supply of perennial vegetable seedling kits (bread fruit, muringa, curry leaves, agathy etc.). Specialized clusters will be entrusted for production and distribution of traditional varieties and nutritional garden. Services of agro service centres and Karshika Karma Senas will be utilised for the establishment of nurseries and nutritional garden. Fallow land cultivation will be supported at cluster level.
The vegetable clusters established will be further graded based on the performance covering group activities, increase in production and productivity, innovative activities, technology application and cluster dynamics. The best clusters will be graded as A grade clusters and special development support will be for those clusters covering support for establishing nurseries, collection centres, pre cooling centres, input centres and other need based project based support. An amount of ₹20.00 lakh is earmarked for the support of graded clusters. Poor performing clusters will be delinked from support and new clusters will be formed. Transparent criteria will be developed for evaluating performance of clusters. Clusters of women, youth and students will be promoted giving priority. A portion of outlay under cluster development will be utilized for project based assistance of each cluster in potential areas.
Best performing A grade cluster with two years experience, good volume of business, nurseries, markets etc. and with a minimum turnover of 5.00 lakh will be  selected as super clusters and assistance will be provided on project mode. An amount of 5.00 lakh is earmarked for such clusters. A separate performance criterion for  best performing A grade clusters will be developed.
Out of total subsidy per hectare 25 percent is earmarked for the promotion of inputs for safe food production and for promoting good agricultural practices. Biocontrol agents, pheromone traps, area wide IPM and bio fertilizers will be included in the 25 percent earmarked amount of the subsidy component. Another minimum 15 percent will be insisted for lime application.
An amount of 850.00 lakh is earmarked for promotion of urban clusters. This includes assistance for vegetable cultivation in urban areas in terraces as well as homesteads including wick irrigation. Grow bags produced through agro service centres and Kudumbasree will also be supported. Urban vegetable cultivation will be institutionalized by the formation of Haritha groups. Under this an amount of 5.00  lakh is set apart for institutionalization of urban vegetable growers into registered 'Haritha Groups'. The local government will be actively brought into this activity.
Need based support for good and well performing Block Level Federated Organizations (BLFO) for specific infrastructure support viz. ecoshop, on-farm production of pseudomonas, trichoderma etc limited to maximum of ₹10.00lakh/BLFO as one time assistance will be provided on project mode. Expenses towards honorarium/remuneration/wages other than field labour charges will not be met from this. An amount of 10.00 lakh is set apart for this during 2021-22. There  should not be any duplication of Block level federated organizations of the department and markets established by VFPCK at ward level in panchayats.
Nurseries will be established in identified blocks through clusters. An amount of ₹5.00 lakh is set apart for establishing small nurseries in Gramapanchayats/ corporation/ selected municipalities for the production of sufficient quality seedlings. Certification of these nurseries by an approved agency should be assured to ensure quality of seeds and seedlings produced.
Community drip irrigation system will be promoted through Agro Service Centres and Karshika Karma Senas of urban areas for effective utilization of irrigation water. An amount of 19.00 lakh is earmarked for this.
Rain shelters for year-round cultivation will be supported for which 500.00  lakh is set apart for setting up of rain shelter of 100 sq.m.
An amount of 25.00 lakh is allocated for the conduct of pesticide residue  analysis in vegetables provided by the Department of Agriculture through Kerala Agricultural University, Vellayani. The projects for which funds have not been provided under the allocation for the University (Research and Extension) only will qualify for this.
Vegetable cultivation will be extended to fallow lands available under the ownership of department farms and PSUs also by involving farmer clusters and women groups. An amount of 50.00 lakh is set apart for technical and contractual  appointments.
The activities related to planting material production, organic farming, soil health management and marketing under the Vegetable Mission will be undertaken under the respective schemes.